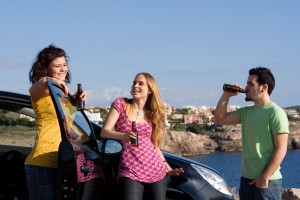 Prom season and graduation season are here and the New Jersey police are taking underage drinking seriously this year. With prom underway, graduation nearing, and the excitement of summer vacation and college freedom looming, it's not consider the dangers associated with this behavior, drinking alcohol before the age of 21 is illegal in the Garden State. But as with many laws, there will always be those who decide to risk it, and many teens don't always think before taking every action.
With this in mind, police departments across the state are gearing up to ensure the safety of high school students during these annual occasions. This includes generally being on high alert for young drivers, as well as DWI checkpoints. For example, the Middlesex County Prosecutor's Crash Investigations Unit is setting up DUI/DWI checkpoints at random that will pop up from now through the end of June. Additionally, law enforcement will be on the lookout for underage drinkers at places like the Jersey Shore, which are especially popular amongst teens at this time of year while off from school.
At the same time, we at the Edward M. Janzekovich law blog are also aware of the serious consequences associated with drinking and driving, especially for drivers who are underage. For that reason, we always recommend that anyone who is charged with driving while intoxicated consult with an experienced New Jersey DWI and drug DUI defense attorney, who has the knowledge and motivation to help.
New Jersey's Zero-Tolerance Policy
New Jersey takes underage drinking very seriously. Indeed, if you are found driving under the influence of alcohol on prom night, you can expect a zero-tolerance policy. In New Jersey, the legal definition of intoxication for an underage driver is a blood alcohol level of.01%. A teen driver can be prosecuted even if his alcohol level is below the .08% legal limit allowed for adult drivers.
Part of the reason for this increased enforcement is because vehicle accidents are the number one cause of death for young people aged 12 to 19. In particular, according to the National Highway Traffic Safety Administration, approximately 1,000 youth under age 21 die each year in preventable tragedies while celebrating their high school proms and graduations. According to the Insurance Institute for Highway Safety, the months of April through June are some of the most dangerous times of the year for teens, with nearly one-third of alcohol-related teen motor vehicle deaths occurring between these months.
Therefore, the State of New Jersey is looking to combat these numbers by escalating police presence of DUI checkpoints from now through the end of June, and until the end of summer at places like the shore.
Legal Consequences of Underage Drinking and Driving
Even if you are underage and it is your first offense, a DWI conviction could mean the loss of your license for a minimum of 30 days and a maximum of 90 days. You may also be sentenced to community service for a minimum of 15 days and a maximum of 30 days. Persons below the age of 21 convicted of DUI in New Jersey will also be required to undertake a highway safety program or pay fees and penalties as prescribed by the Intoxicated Driver Resource Center. Additionally, your car will be impounded, making it difficult to get to school or work. You may also face insurance rate increases and legal fees that cost thousands of dollars to resolve.
Not to mention, a DUI/DWI conviction will go on your record. Unfortunately, many teens don't grasp the seriousness of this offense. They don't realize that you may be required to disclose it on college applications, future job applications and even for financial aid requests. A drunk driving conviction could also make you permanently ineligible for certain jobs in the future.
If you decided to drink and drive before the age of 21, it may seem like a small decision at the time, but the consequences of a DUI conviction can last a lifetime.
New Jersey Drunk Driving Lawyer Edward M. Janzekovich Defends Underage Drivers Accused of Driving While Intoxicated
If you, your child, or anyone else has been charged with underage drinking, it is extremely important to contact an experienced DUI/DWI attorney who can answer all your questions and help defend you against potentially life-altering consequences. You do not need to face these battles alone. A knowledgeable drunk driving lawyer can review the evidence against you and present the best case in your defense. A good DUI attorney can make all the difference. To speak with an experienced New Jersey DWI lawyer about your situation, call us at 732-257-1137 or contact us online today. We serve clients throughout the state of New Jersey.