Here on the Edward M. Janzekovich law blog, we believe it is important to keep our readers and clients informed about what is going on within the legal system with regard to the COVID-19 Coronavirus pandemic. To all our clients, colleagues, and friends – as always, we hope you are able to remain safe and healthy during this time.
Supreme Court of New Jersey SECOND Omnibus Order
This last week, the Supreme Court of New Jersey issued a second omnibus Order with the following renewed commitment to remote proceedings. The two most important take-aways for anyone charged with DUI/DWI or Refusal to Submit to a Breath test are as follows:
1. Most Court Operations Are Continuing Remotely
During the COVID-19 pandemic, most court operations have continued remotely in all levels of the court system. Since transitioning to virtual operations, the courts have conducted more than 12,000 remote court events involving more than 80,000 participants.
If you were charged before or during the quarantine/lock-down period, you cannot ignore the charges against you. If you do not take action on pending charges, you will face consequences.
2. More Court Matters Will Resume in the Coming Weeks, INCLUDING MUNICIPAL COURTS
The Court's Order lifts the suspension of Municipal Court sessions. As of April 27, 2020, remote proceedings in the Municipal Courts have resumed for more proceedings.
Moreover, effective May 11, 2020, with appropriate notice to the parties, Municipal Court sessions can resume in individual Municipal Courts. Sessions may only proceed by video or phone. Municipal Court sessions will resume to the extent possible based on facilities, technology, and other resources.
Although trials and discovery hearings will continue to follow special rules for postponement, many other issues in your drunk driving, drugged driving, driving while high, driving while intoxicated, driving under the influence, and refusal to submit to a breathalyzer case can and will proceed. If you do not take prompt and immediate action in your case, you will likely face serious consequences. The Court has specifically said that further postponements and adjournments will not be granted, and most deadlines will not be extended except in special circumstances.
A copy of the newest orders can be found here:
Governor Murphy's Roadmap to Reopening
Last week, Governor Murphy also issued a statement regarding his plan to reopen and resume key functions around the state.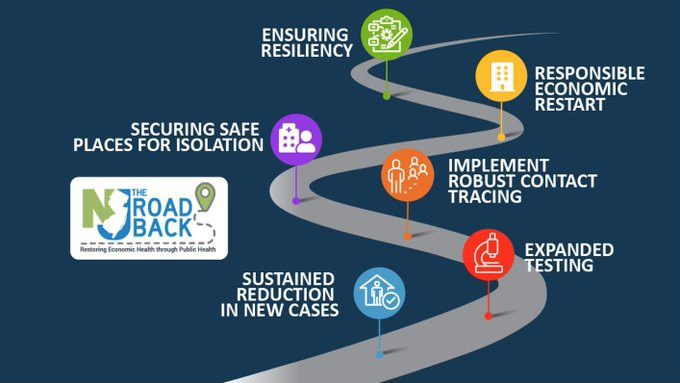 Although no specific deadlines or dates were provided, the "road back" demonstrates a commitment by the state to reopening. This, taken together with the Court's orders, demonstrates that anyone who has a legal issue – including pending DUI or DWI matters – should start making preparations for cases to resume.
Accordingly, it will be important to consult an experienced drunk driving and drugged driving attorney as soon as possible if you have a case pending or have any questions.
New Jersey Drunk Driving Lawyer, Edward M. Janzekovich, Can If You Were Charged Before or During the Quarantine/ Lock-Down Period
If you or someone you know was charged for DUI or DWI before or during the stay-at-home period, there are issues in your case that may need to be resolved immediately or in the near future. An experienced attorney can review your individual case and determine the best way to proceed at this time. A good lawyer can make all the difference. We at the Law Offices of Edward M. Janzekovich can help. To speak with an experienced New Jersey DWI/DUI lawyer about your situation, call us at 732-257-1137 or contact us online today. We serve clients throughout the state of New Jersey.